Mack Lowers Customers' Maintenance Costs with Extended Service Intervals
March 23, 2015

Posted by

promedia
Comments Off

on Mack Lowers Customers' Maintenance Costs with Extended Service Intervals
GREENSBORO, NC (March 23, 2015) – With a focus on reducing the total cost of ownership for customers, Mack Trucks announced that it is extending service intervals for diesel particulate filters (DPFs) and diesel engine oil and filter changes on all model year 2011 and newer Mack® models powered by Mack MP7®, MP8®or MP10® engines. Over the life of a truck, the extended intervals can add up to a potential savings of thousands of dollars.
The new recommended service intervals for engine oil and filter changes have been increased by 10,000 miles to 45,000 miles for long haul, 35,000 miles for regional haul and 25,000 miles for heavy haul. Owners whose engines idle more than 30 percent of the time should use the next shorter oil and filter change interval. Any engine oil used must meet Mack's EO-O oil specification.
The service interval for DPFs has been extended from 250,000 miles to 400,000 miles for long and regional-haul applications.
"These extended service intervals demonstrate Mack's commitment to improving our customers' bottom lines by reducing maintenance costs," said Roy Horton, Mack director of product marketing. "Using data from our EPA 2010-compliant trucks, we've been able to verify that our newer engines produce significantly less particulate matter, enabling us to expand the service window for DPFs and engine oil and filter changes."
Compared to the previous maintenance schedules, the extended engine oil and filter change intervals can save between four and 16 oil drains, depending on duty cycle, on a truck with a 600,000-mile service life. The extended interval for DPFs will allow many owners to cut the number of filter replacements or cleanings from two to just one over the life of the vehicle.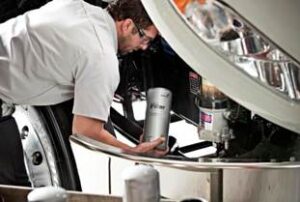 Mack Trucks announced today that it extended service intervals for diesel particulate filters and diesel engine oil and filter changes on all model year 2011 and newer Mack® diesel engines, potentially saving thousands of dollars over the life of a truck.
Dedicated to quality, reliability, and total customer satisfaction, Mack Trucks, Inc. has provided its customers with innovative transportation solutions for more than a century. Today, Mack is one of North America's largest producers of heavy-duty trucks and Mack® trucks are sold and serviced through an extensive distribution network in more than 45 countries. Mack trucks and diesel engines sold in North America are assembled in the United States. Mack manufacturing locations are certified to the internationally recognized ISO 9001 standard for quality and ISO 14001 standard for environmental management systems. Mack is also a proud sponsor of Share the Road, an American Trucking Associations' public information campaign aimed at enhancing the safety of our nation's roadways.
Mack Trucks, Inc. is part of the Volvo Group, one of the world's leading manufacturers of trucks, buses, construction equipment and marine and industrial engines. The Group also provides complete solutions for financing and service. The Volvo Group, which employs about 110,000 people, has production facilities in 19 countries and sells its products in more than 190 markets. In 2013, the Volvo Group's sales amounted to $41.5 billion. The Volvo Group is a publicly-held company headquartered in Gothenburg, Sweden. Volvo shares are listed on OMX Nordic Exchange Stockholm and are traded OTC in the U.S.